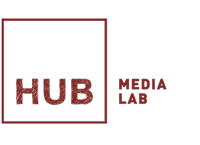 Hub LA is thrilled to announce the Summer 2013 launch of our Media Lab, 3,000 square feet of creative space and resources. The Media Lab will facilitate collaboration between storytellers, message makers, visual artists, and social entrepreneurs to create meaningful and entertaining content. For Angelenos across all industries, the Media Lab will be the place to fund, source, create, and disseminate creative visual projects. Offering workspace, post production facilities, equipment rentals, and a screening room, the Media Lab will also host media specific programming, seminars, workshops and panels.
Media Lab Amenities
Writing/Producing: Collaborative workspace, lounge, private offices, classroom and conference rooms
Filming: Camera, lighting, and other equipment rentals
Editing/Finishing: Post-production suites, fully equipped iMac and monitor stations
Screening: Screening room with flexible seating that can fit up to 40 people
Membership resources include events, workshops, and advising.
Media Lab Membership
Being a part of the Media Lab is as easy as joining Hub LA! Our Hub Club base membership allows you to access these amenities and our vibrant community of members.
Media Lab Advisors and Mentors
Liz Jenkins
Peter Samuelson
Lance Weiler
Media Lab Partners
Media Lab Launch Party Sponsors