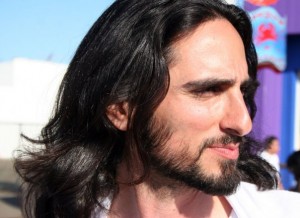 Meet Moses Hacmon. Moses is a collaborative artist, photographer and architect from Israel. Moses studied cinematography and fine art in Tel-Aviv and in 2002 Moses transferred from the Technion in Haifa to SCI_Arc (Southern California Institute of Architecture, just around the corner from Hub LA), where he completed his B.arch with AIA honors in 2006.
Every piece of furniture in the Hub that was not donated by Haworth was created by Moses uniquely for our space.
How did you get involved with Hub LA?

I was introduced to the Hub LA by the artist Jesse Gilbert. We have been working together on creating ways to redefine creative spaces for performances and art installations. Hub LA wanted to offer members an office space that has the same levels of flexibility as a creative space, which will provide for many different work environments and many different types of projects.
What did you design for the Hub LA?

We wanted to design furniture that is both  modular and flexible in use, as the space and the work flow changes according to each member and his/her projects.
First we designed the main work tables, which needed to have the most flexibility. The tables works like flowers; they have a center unit and three petals connected to it. The petals have pivots and different connection options to the center unit, which provide different size and shape work tables. Each petal has only two legs and could be easily made flat for storage.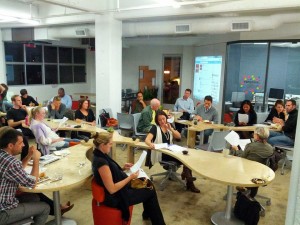 After that, the Hub requested a contemporary version of a phone booth- a place for a quiet phone conversation and some measure of privacy. We designed a metal frame with upholstered wood panels that provide a quiet, comfortable space to have phone/video calls. The booths can fit 4 to 5 people.
Obviously the Hub  has a great open space and we wanted to be able to partition the space for different size events and projects. For this, we designed reclaimed wood walls that have plants on one side and benches on the other side. It was important for us to keep views through the walls, so we made small windows in each wall, since we want to encourage connection and collaboration between different teams.  Matching tables create a cafe-like area where people can have a seat and perhaps enjoy a bite to eat. 
For lectures and performances we created a mobile stage made out of nine individual squares that can be stacked in many different ways. Arranged end-to-end, they create the stage, but in a stacked arragement (with cushions), they become a comfortable seating area. In this way we have a functional storage option for an otherwise unweidly element like a stage.
How do you see your designs transforming and informing the Hub LA and the nature of interactions within it?

All the furniture were designed in full collaboration with the Hub LA.  Co-founder and CEO Elizabeth Stewart has been personally involved with the design process; we designed and tested all the different furniture and layouts to make sure members get the most innovative, comfortable work space possible. From the beginning, our goal was to transform the way we use an office space and make it amenable to new technologies and in line with the current work culture. The space was design to be impacted and transformed by its members as well as its creators, and we want everything to evolve continually. The beauty of having so many different modular elements is that we do not know yet the many creative ways people will use them.  This is an ongoing conversation between the Hub LA and its members, which as a designer I am excited to have and be part of.
Do you have a personal philosophy that informs your work?

My philosophy is the same both in my personal life and my design work: for me, it is all about relationships. Designing relationships with people in physical sites. The key is in listening to the client needs as well as listening to what the site has to give.
It is important for me to learn how people live both aesthetically and functionally in their everyday life, then I find ways to improve their functions and experiences in their spaces. At this point in time I believe that we are designing for timelessness. My goal is to expose the most timeless elements of character and nature.