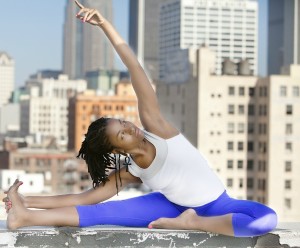 Meet Jessica Lesley! Jessica is a certified yoga instructor and Manduka Ambassador teaching in Los Angeles. Her mission is two-fold: to bring yoga to under-served communities of color and to bring mindfulness to corporate environments.
What are you passionate about; what does "doing good" mean to you and your business?
I am passionate about helping others. This comes about in many different forms, I took my first yoga class as a way to deal with anxiety and panic attacks. Seeing/feeling how yoga helped me is what made me want to teach. Prior to becoming a yoga instructor I worked in a corporate setting and quickly realized that the business and networking skills I developed during that time were of huge benefit to my new role as a self employed yogi. These skills are also useful to others. My work now consist of helping stressed out professionals by teaching yoga for Corporate Wellness programs and working as a consultant to small business owners.
"Doing good" for me and my business are one in the same - help others uncover their full potential. Whether on the mat helping people breathe through the stress to go back to their office as a better colleague (and maybe even back home as a better partner, friend, or parent) or in a consultation helping people grow their business.
Why did you chose to become a Hub LA member?
Through social media I saw that quite a few people that I know and respect in LA were already members from there I did a little snooping around the Hub's website and read some tweets - from there I was sold!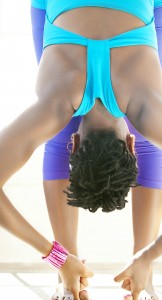 What are you most excited about regarding your membership?
Connecting! This is a huge part of what I do, even in the orientation as I listened to what the other new members said about their business and goals I thought about who I already knew that could possibly be the missing piece to helping them. I look forward to meeting more members and maybe even offering a yoga class at the Hub!
What are some new goals or ways in you wish to grow; Where do you see yourself and your business one or two years from now?
I wish to grow the community outreach aspect of my business. As much as I love yoga and how it has helped me, I am not above pointing out the lack of diversity often seen in LA yoga studios. I have made it my mission to not just be a voice of complaint, but to be an active leader in bringing yoga to under-served communities of color where studies show the stress of living in poverty and high crime areas results in PTSD. As a consultant my goal is to work with more small business owners in the health and wellness industry which often sees mindfulness as being disconnected from focusing on profit and growth.
Two years from now I see myself teaching only 2 -3 corporate wellness classes per week and working more as a consultant. I recently got married (July) and see myself as a new mom as well!
Describe your perfect LA day.
Wake up, eat breakfast with the husband, walk the pup, then experience the diversity of LA. Leave NoHo and head to Leimert Park for some jewelry and Jamaican food, stop at Mom's house in Culver City for tea and laughs, end the night in DTLA for dinner and a movie. Days when I get to enjoy as much as this city has to offer that I can cram into a few hours are the best!
Learn more about Jessica by visiting her website, following her on Twitter, and liking her on Facebook.
Photos by Karen Kirkland Photography