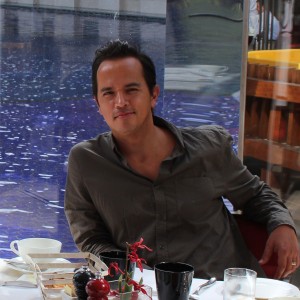 Meet Adrian. Adrian is the CEO of Roman Apparel Group. Over his 15 year career in the fashion world he has earned a reputation as an industry leader for the manufacturing of designer, contemporary, and luxury brands. In recent years, Adrian has spearheaded the development and production of top labels including Joe's Jeans, Elizabeth & James, Patterson J Kincaid, LaROK, and Streets Ahead.
Why did you chose to become a Hub LA member?
I needed temporary workspace. I was in between making a decision to potentially relocate to New York- my company has offices in both NY and LA. I did some research on what was offered in Los Angeles and I thought that idea of the Hub with its emphasis on social enterprise was the most interesting. I came in to take a look, met Elizabeth Stewart, and found out it that Hub LA is really practicing what it preaches. I liked the privacy, too- having a "members only" environment ensures that the atmosphere is conducive to getting work done, but that if I felt like having a discussion, I'd be surrounded by other entrepreneurs who had like-minded values and goals.
What is the best part about coming to the Hub?
Definitely the people. I met a ton of people that I will stay in touch with for professional reasons and also people that I will personally be friends with. I have to say, I am so inspired by the people I've met here. Initially, my goals didn't necessarily include integrating an element of social good into my business plan, but since joining the Hub I have decided I'm absolutely going to do something to make a positive impact.
What does "doing good" look like for your company and, more generally, the apparel industry?
I don't know exactly what the social good element of my business will look like. There are many options within the apparel industry, from a one-to-one model of donation to simply ensuring that damaged or out-of-season product doesn't end up in a landfill but instead gets donated or repurposed. In the past I have held English classes for the factory staff which often do not have strong communication skills in English. I'd like to get that going at Roman Apparel Group.
What are some new goals or ways in you wish to grow your business in 2013?
My goal this year is to take at least six apparel/accessory brands and get them on their way to the $60m mark. Roman Apparel Group is a product development, brand management, production and sourcing firm for apparel and accessories. We've got a factory here in Los Angeles so if you're ready to produce, we're ready; but we also help designers prototype, refine, and source their ideas from sketch to production. I want to grow my office out in New York to a full fledged office (right now it's just a satellite office) equivalent to what we are able to do here in LA with the ability to develop prototypes and small production runs.
Describe your perfect LA day.
It doesn't get much better than a picnic at Silverlake park with my wife and two little girls on any given beautiful Los Angeles day. The perfect night is dinner with my wife at The York in Highland Park. My wife is a stylist; for someone who works in the apparel industry, I'm hopeless at picking out my own clothes. I'd be lost without her help. Trust me, behind many a well-dressed man there is a wife telling him what to wear.