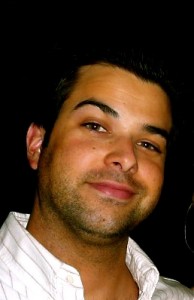 Meet Jim Mulhearn! Jim is the Founder and CEO of Impctful, an online marketplace and collective for socially responsible goods and services. Impctful offers clothing and accessories for men and women, as well as items for beauty, tech, health, and home. Looking for an eco-friendly, vegan purse? Impctful's got one made from upcycled innertubes. Need a laptop case but want something colorful and unique? This quilted one by Nomi Network is made from a recycled rice bag and increases the financial independence of at-risk populations.
Why did you choose to become a Hub LA member?
I had just moved back to Southern California after some time up North and it looked like a great way to meet people who are passionate about making positive change in the world.
What's the best part of Hub LA membership?
The best part of Hub LA is the community, and the new Media Lab will be a great resource, too… but when I learned that membership at Hub LA includes a free membership to SPiN, the ping pong social club at The Standard Hotel DTLA it was a real game changer! Game on! [Editor's Note: Jim is undoubtedly the best ping pong player on Team Hub. You have been warned.]

Tell us a little about your work. What does it mean to "do good" for you vis-a-vis your enterprise?
Impctful is a curated marketplace for socially responsible goods - meaning that every item on the site is chosen for being fashion-forward and also cause-forward. Impctful is about not having to sacrifice style for substance. So to "do good" for us is to get as many of the great items on the site into the daily lives of our customers. The site is really about the brands, not Impctful.
In what ways are you looking to grow? What types of collaborations or partnerships interest you?
I am always looking to meet people who want to either partner up on the site or potentially join the team in some capacity. Impctful is still early enough to be looking at everything as an option! Anyone should feel free to email me ([email protected]) if they want to touch base and bounce an idea around.
As far as the near term, we are going to be adding more sections to the site very soon as well as improving the site and its functionality. We just redesigned the site and gave it a mobile-friendly responsive design. That is just the beginning!
Describe your perfect LA day.
Hmmm…this is a tough but one it would definitely involve being outside and having my dog, Louie, with me. The best part of LA and Southern California is that you can find something new to do every weekend, but a perfect day would include Impctful having a great day online, talking with some great new brands and people to work with, and probably a hike somewhere like Griffith Park or Runyon. The best way to end a day for me is to head out with some friends and find a show to see at any of the great venues around town, which is another great thing about LA - the amount live music options.
Watch Jim talk about Impctful.com himself:
Impctful About Us from Impctful on Vimeo.
June 27th, 2013
---
Posted by Hub LA
Tags: collective, ecommerce, entrepreneur, impctful, marketplace, meetourmembers, members, social enterprise, social responsibility
Profiles, The Hub LA