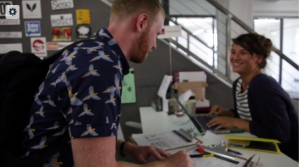 MEMBER-HOST POSITION DESCRIPTION

ABOUT THE HUB LA
Hub LA is about the power of people taking action for a better world. We are a new kind of membership club dedicated to the individuals and teams building the local, sustainable economy in Los Angeles and beyond. Anchored by a physical place in the heart of the Arts District in Downtown LA, the Hub offers members access to 8,000 square feet of creative industrial space to work, meet, learn, collaborate, and play; a curated community of values-aligned individuals and companies; and custom programming and events focused on personal and professional development. We combine the best of a cafe, innovation lab, business accelerator, serviced office, and community center to create a place for meaningful encounters, productive work sessions, exchange and inspiration all with the ambition to spur social innovation.
We offer different membership packages depending on individual and team needs from a basic Hub Connect virtual membership with ability to attend member programming to full-time membership with 24/7 access to the physical space. We are also developing new member services for social enterprise start-ups and independent content creators.
JOB SUMMARY
The HUB LA Member-Host is responsible for helping to build Hub LA's most important offering: its culture. Professionally hosted space and member experience is core to the Hub LA experience and to the original HUB DNA. Member-Hosts work with the Hub LA team to build strong relationships with Hub LA members, ensure their experience is amazing, and act as their main interface to help empower them to get the tools and resources they need to succeed.
First and foremost Member-Hosts will assist in managing space and secondarily work with Hub LA team members to engage members by promoting opportunities for collaboration, and programming. Perhaps most importantly, Member-Hosts respond to Members' last minute space and amenity needs and ensure everyone feels welcome and at home in the space.

The main goals of Member-Hosts are:
a) Maintain a highly inviting, productive, and secure workspace at all times.
b) Ensure other members feel welcomed and have the physical tools they need to be productive when they are in the space.
c) Assist in new member cultivation and providing tours to potential members.
ESSENTIAL JOB FUNCTIONS
Space:
• Ask everyone to sign-in at Host station upon entry, including member guests, and guests renting conference rooms (not inclusive of people who come to attend Hub events).
• Monitor the coffee flow and dishwasher cycle are up to speed at all times of the day.
• Educate users on how to utilize their membership and amenities provided.
• Maintain Hub LA Host Binder Manual; Report when in need of tools to equip you with a safe space, geared for optimal use, and in an overall orderly fashion.
• Monitor sounds and smells!
Community:
• Greet members by name and make them feel known and acknowledged.
• Welcome and introduce yourself to visitors and new members. Provide information and assistance to those who call, email or visit the space.
• Oversee success of working groups and other Hub LA tools and services.
• Notices opportunities to introduce members.
• Document member success stories and member collaborations seen throughout the day in the Host Binder, to be shared with our Community Curator.
Programming:
• Oversee orchestration of Hub LA daytime programming, member engagement, and attending to some evening events.
• Check the Google calendar for daily roombookings.
• Record member recommendations/feedback for programming, workshops, and resources in the Host Notebook. Share with Community Curator.
EVALUATION
• Reviews will occur every month with Operations Manager to discuss performance on stated objectives above and subsequent review every month thereafter. Also to be discussed is individual performance as a member of the overall Hub team and ability to develop trusting relationships with Hub team and member community.
POSITION REQUIREMENTS

• Beginning immediately with minimum three month commitment. Position is part-time with:
• Occasional nights and weekends required.
• The ideal applicant has a critical mix of entrepreneurial drive, exceptional personality and communication skills, and hands-on attention to detail. You MUST be a good listener and have an eye for synergies and opportunities.
• Knowledge of Los Angeles community and social enterprise space is highly desirable.
• Must be passionately values-driven and able to connect with diverse social, educational and cultural backgrounds.
• The position is based at Hub LA workspace itself and is a public facing, high energy role that demands great determination and grounded sensibilities.
COMPENSATION: To be reimbursed with membership hours, equivalent to the hours contributed at the Host desk.
Email Ashley with a resume and what your availability looks like.